PRO-FRIENDS Iloilo holds CSR Caravan in Pavia barangays
December 9, 2017
by Nile Kris Jan Banga
2 Comments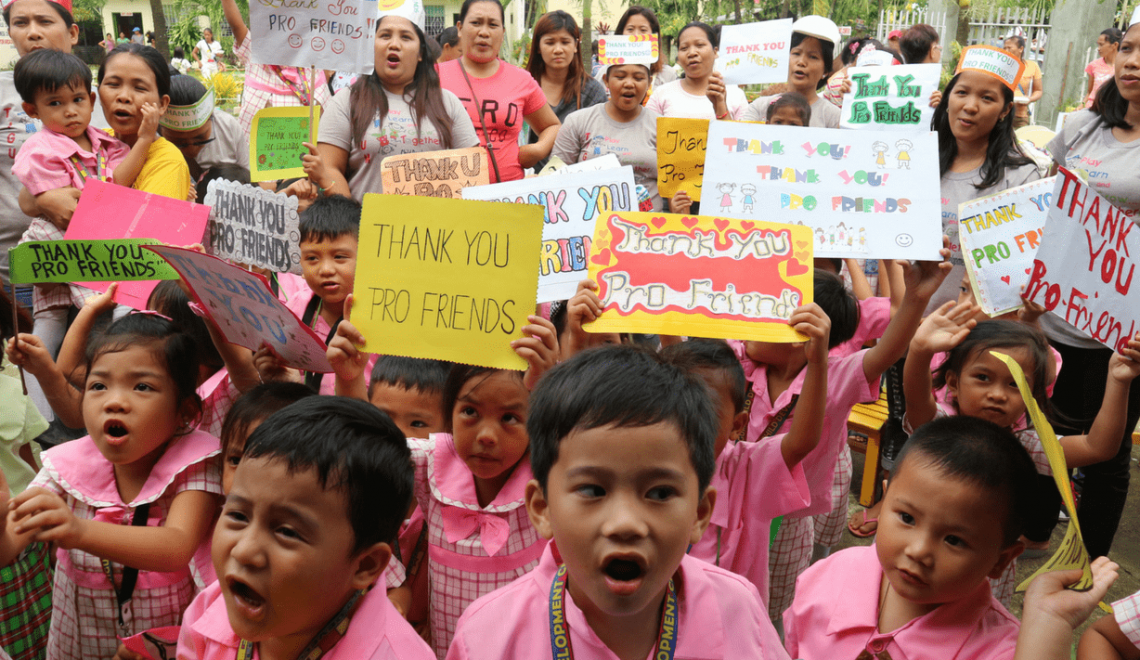 Christmas came early to Barangays Tigum, Ungka and Balabag in the town of Pavia, Iloilo as Property Company of Friends, Inc. or PRO-FRIENDS Iloilo together with its sales networks held a 4-day Corporate Social Responsibility Caravan.
The first stop of the PRO-FRIENDS Iloilo's CSR Caravan was Barangay Tigum on November 7 which benefited a total of 135 kids (60 Day Care pupils and 75 Kindergarten pupils).
Held at Tigum Elementary School, the kids were entertained by the magic show sponsored by PRO-FRIENDS Iloilo. They also learned basic hygiene such as proper handwashing and toothbrushing. Likewise, they enjoyed the food, received hygiene kits, school supplies and loot bags prepared by PRO-FRIENDS, while their parents, guardians and teachers were given reading glasses and undergone sugar screening for free courtesy of Golden Pillars Group, Tycoons and Go Land Marketing.
Become your own storyteller and blogger!
GET MY FREE EBOOK
On November 8, the CSR Caravan of PRO-FRIENDS Iloilo continued in Barangay Balabag where one of its projects, Monticello Villas is located. A total of 130 Day Care pupils gathered at the barangay covered court to listen to the Hygiene Talk given by PRO-FRIENDS Iloilo and to witness a magic show.
The said beneficiaries were also given hygiene kits and school supplies and enjoyed the Feeding Program. Success Unlimited Marketing, on the other hand, sponsored loot bags for all kids present during the event.
On the third day of the CSR Caravan on November 10, PRO-FRIENDS Iloilo visited Barangay Ungka which hosts Parc Regency Residences.
A total of 140 kids benefited from the feeding program, enjoyed the magic show and received school supplies from by PRO-FRIENDS Iloilo. The kids also received water bottles that they can use everyday at school courtesy of the Diamond Group.
On the last day of the CSR Caravan of PRO-FRIENDS Iloilo which was held last November 10, PRO-FRIENDS Iloilo went back to Brgy. Balabag. This time, they gave joy to the indigent residents and elders of the said barangay.
The beneficiaries laughed their hearts out to the punch lines and magic tricks of "Tito Bob the Magician" and shared the food prepared by PRO-FRIENDS Iloilo. Apex Group also distributed blankets to each beneficiary.
The recently conducted CSR Caravan is a way of PRO-FRIENDS Iloilo and its sales network to give back to the community where the company's projects are located as well as to the neighboring communities.
"Christmas is fast approaching and now is the high time for us to share not only material things, but also joy and love to everyone. This is also in line with our principle of creating communities and transforming lives," said PRO-FRIENDS Iloilo General Manager Dina Estocado.
Click here for more events on this blog.