Global Shapers Iloilo Call To Help Davao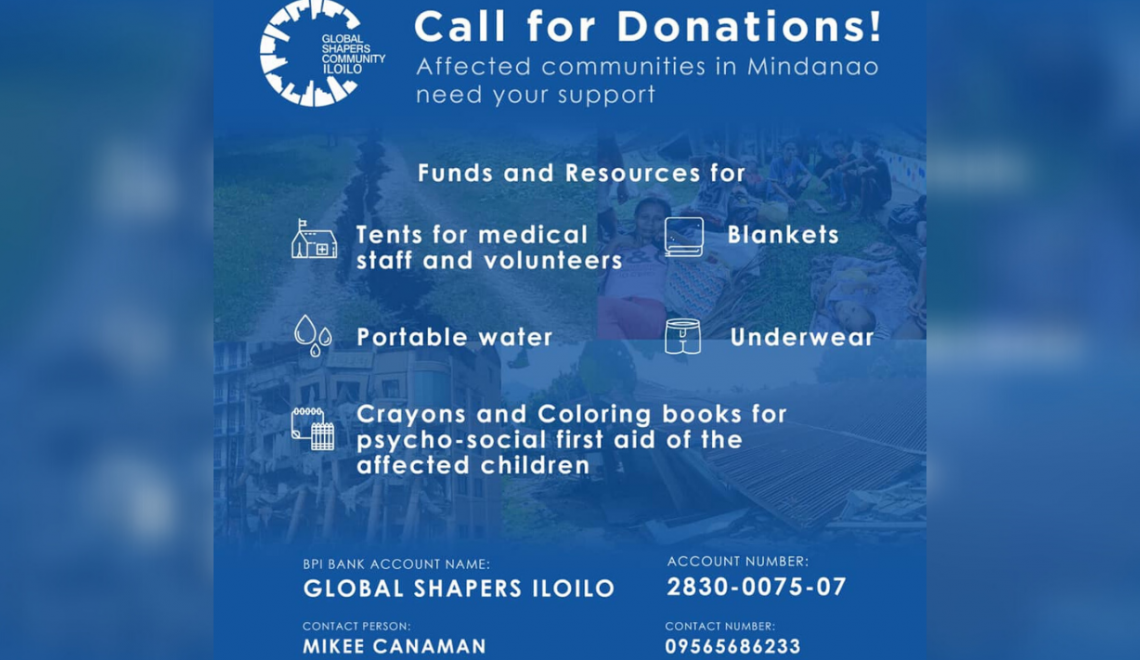 Global Shapers Iloilo Call To Help Davao – The Global Shapers Community (GSC) is an international network of hubs developed and led by young people who are exceptional in their potential, their achievements and their drive to make a contribution to their communities. It is an initiative of the World Economic Forum and is currently headquartered in Geneva, Switzerland. Currently, there are 403 hubs all over the world, 4 of which are Philippine hubs namely Cebu, Davao, Iloilo and Manila.
With these hubs having a shared mission to drive dialogue, action and change to shape the future of the Philippines, we respond with conscious efforts to events that call for help. This includes the recent earthquake in Mindanao that displaced many communities specifically in Cotabato and Davao del Sur.
Recently, a series of earthquakes jolted certain areas in Mindanao, claiming lives and property and leaving the survivors in dire need for basic necessities. A difficult time for our fellow Filipinos affected by this tragic disaster, it calls on all of us to unite in helping them rise above the rubble. We are calling into your kind hearts to extend your blessings upon our affected brothers and sisters. A little help goes a long way!
With the help that you can give in cash, goods or publicity for this cause​, it will be relevant in pooling resources for the following:
Tents for medical staff and volunteers.
Crayons and coloring books for the psychosocial first aid of the affected children
Potable water
Blankets
Underwear
Should you want to send financial support in this cause, you may send your funds through the bank details below.
Donate through Bank of the Philippines Islands (BPI) Bank
Account Name: Global Shapers Iloilo
Account Number: 2830-0075-07
You may reach Global Shapers Iloilo at iloiloshapers@gmail.com or at (+63)956-568-6233.