To Infinity and Beyond: The Medical City Iloilo – 8 Years of Patient Partnership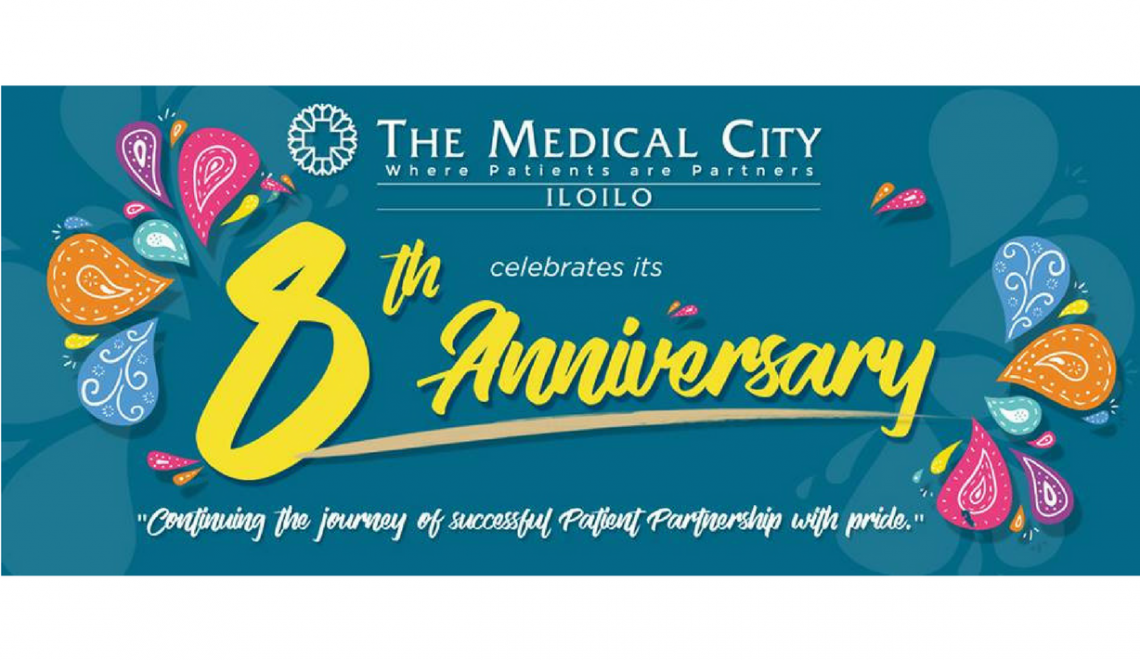 The Medical City Iloilo (TMC Iloilo) is celebrating another milestone this month as it promises to continuously grow as one of the trusted healthcare brands in Iloilo. Now on its 8th year of giving quality and modern medical services to the Ilonggos, TMC Iloilo highlights its commitment of patient partnership.
From being an industry challenger way back 2010, TMC Iloilo is now becoming known as one o the top healthcare brands in Iloilo offering state-of-the-art facilities, topnotch medical specialists and innovative health programs.
As it celebrates its 8th year of bringing patient partnership to the Ilonggo community, TMC Iloilo proudly marks new developments that will further prove its commitment:
The Medical City Iloilo: I-REACT
TMC Iloilo is considered as the first private hospital in Western Visayas Region to have HIV Hub. TMC Iloilo's I-REACT has been fully awarded full accreditation by the Department of Health (DOH) last January 2018 because of its outstanding performance.
I-REACT offers free HIV screening and counseling. It is also being manned by compassionate and competent HIV counselors and distinguished infectious disease specialist who provides quality health services to their patient partners. Moreover, The Medical City Iloilo is committed to end the stigma of HIV/AIDS in the Philippines by valuing high confidentiality among its patients.
The Medical City Iloilo: Dialysis Service
The Dialysis Center is the newest facility of TMC Iloilo. The hemodialysis unit houses 13 advanced stations, each having its individualized monitor for patient viewing and entertainment for the whole course of the treatment. This brings a new kind of experience to its patients as it commits to bring trendsetting technology and total wellness.
The Medical City Iloilo: CTRI
As part of its commitment of levelling up its services, TMC Iloilo now houses a research-based institution manned by trained and competent staff. The Medical City Iloilo's CTRI has a centralized level III Philippine Health Research Ethics Board (PHREB) and accredited by the Institutional Review Board. The said research facility provides intra and extra mural grant assistance for aspiring researchers.
The Medical City Iloilo: Z-Benefit for Coronary Artery Bypass Graft (CABG)
TMC Iloilo is the first private hospital in Western Visayas to adopt PhilHealth's Z-Benefit Package for CABG. The hospital offers a half a million coverage for PhilHealth eligible patients. The Medical City Iloilo also implements a "No Balance Billing" to policy qualified patients. With this offering, patients will no longer need to fly to Manila or go elsewhere.
The Medical City Iloilo: AMI Pathway
TMC Iloilo offers a specialized care for patients with heart attack through its Acute Myocardial Infraction (AMI) pathway which adheres to the standard given by the Joint Commission International. The program follows a 90 minutes door-to-ballon target to ensure efficient management of such conditions. With the competent critical care specialists, the interventional cardiologists and cathlab nurses, patients will be assured to receive nothing but the best medical services. The Medical City Iloilo is the only hospital that offers Catheterization Laboratory Services in the region.
The Medical City Iloilo: Brain AVM
TMC Iloilo is the first hospital in Western Visayas to perform the country's first Onyx embolization procedure. The said endovascular treatment utilized Onyx brain Arteriovenous Malformations (AVMs) led by Dr. Victor Erwin Jocson. With his impressive medical background being fellow of the University of Western Ontario in Canada for Neuroradiology and in NEURI Bicetre Brain Vascular Center in Paris, France for Interventional Neuroradiology, The Medical City Iloilo takes pride to have medical experts who can handle such complicated cases.
The Medical City Iloilo: Internal Medicine Residency Program
As part of rendering quality healthcare services, TMC Iloilo is now a Residency Training ground for future medical practitioner. The Medical City Iloilo's Internal Medicine (IM) Program is accredited by the Philippine College of Physicians. This recognition is the first step to TMC Iloilo in becoming a training hospital of future physicians and soon-to-be leaders in the field of healthcare under Internal Medicine.
In a span of 8 years, TMC Iloilo has already proved so much to the Ilonggos. It has evolved into an industry prime mover because of the many firsts that it brought in this part of the country. With its continued commitment in serving its patient as partners, Ilonggos will surely see and experience more breakthroughs in terms of healthcare and medicine in the next few years.
Check this hospital on Facebook: https://www.facebook.com/pg/themedicalcityiloilo/  and their website: http://themedicalcityiloilo.com/.